Meet Dr. Gary Italia
Finding the Natural Approach to Health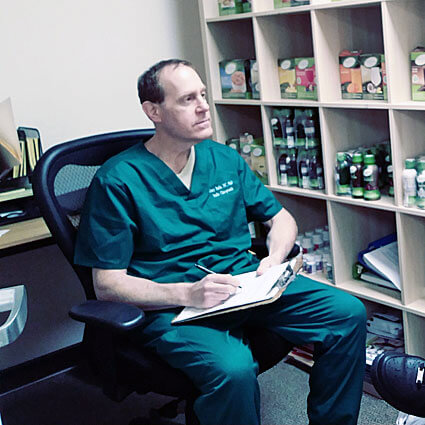 While in high school and college, Dr. Italia started weight training and bodybuilding. He attended college for exercise science and knew he was destined for the health care field, with a father who was a surgeon and a mother who worked as a nurse. He originally thought he'd be a medical doctor until he encountered a chiropractor who helped him with an injury.
A shoulder problem left Dr. Italia unable to train and compete in bodybuilding. He sought chiropractic care and found he was much better within just a few weeks. The natural side of chiropractic went along with his belief in fitness, nutrition and keeping the body healthy.
Training in Varied Healing Solutions
Dr. Italia first attended Springfield College in Springfield, Massachusetts. He then went on to National University of Health Sciences near Chicago, Illinois. There, he learned how to practice a medicine-based form of chiropractic using physical therapy, supplements, diagnostic testing and more to provide effective care.
A Love of Learning
Continuing to learn is a vital part of Dr. Italia's practice philosophy, and he has earned numerous degrees including two bachelor's degrees, a master's degrees and a Ph.D., in addition to his Doctor of Chiropractic. Additionally, he is licensed by the state of Connecticut as a Nutritionist.
As the chiropractic physician for the American Bodybuilding Team in the 1990s, Dr. Italia traveled to Italy for competitions and has also worked with elite athletes including top ranked boxers. Teaching has also been a part of Dr. Italia's career. He was an adjunct professor at the University of Bridgeport for over a decade, teaching human nutrition in graduate school. He's taught online courses and postgraduate seminars for other chiropractors and health professionals.
EXPLORE OUR SERVICES »
Staying Busy and Active
Dr. Italia has attained numerous licenses and certifications. Some of these include a board certification in Chiropractic Neurology and Nutrition as well as a Certified Strength and Conditioning Specialist, Certified Clinical Nutritionist and Certified Medical Exercise Specialist.
Outside of his two practices, Dr. Italia is an author and nutritional consultant for fitness and martial arts studios. He's been involved in martial arts for about 30 years and has multiple black belts. He is currently into jujitsu and uses his spare time to be with his family. His two children are involved with sports, and Dr. Italia coaches some of them. It's important to Dr. Italia that he give back to his community, and he volunteers through his church.
Same-day appointments are available! Schedule your appointment with us today.

Dr. Gary Italia | (860) 257-7448